More than a dozen seafarers from South Korea, Myanmar, Vietnam and Indonesia are now making their way home after the International Transport Workers' Federation (ITF) and its Iranian affiliate helped broker their release from Iranian authorities.
Iran's Revolutionary Guard seized the South Korean-flagged tanker MT Hankuk Chemi in the Strait of Hormuz on 4 January 2021. The crew detained in the process were five South Korean, 11 Burmese, two Vietnamese and two Indonesian seafarers.
The ITF was contacted by Federation of Korean Seafarers' Union (FKSU) asking the ITF family for solidarity and support for the detained seafarers.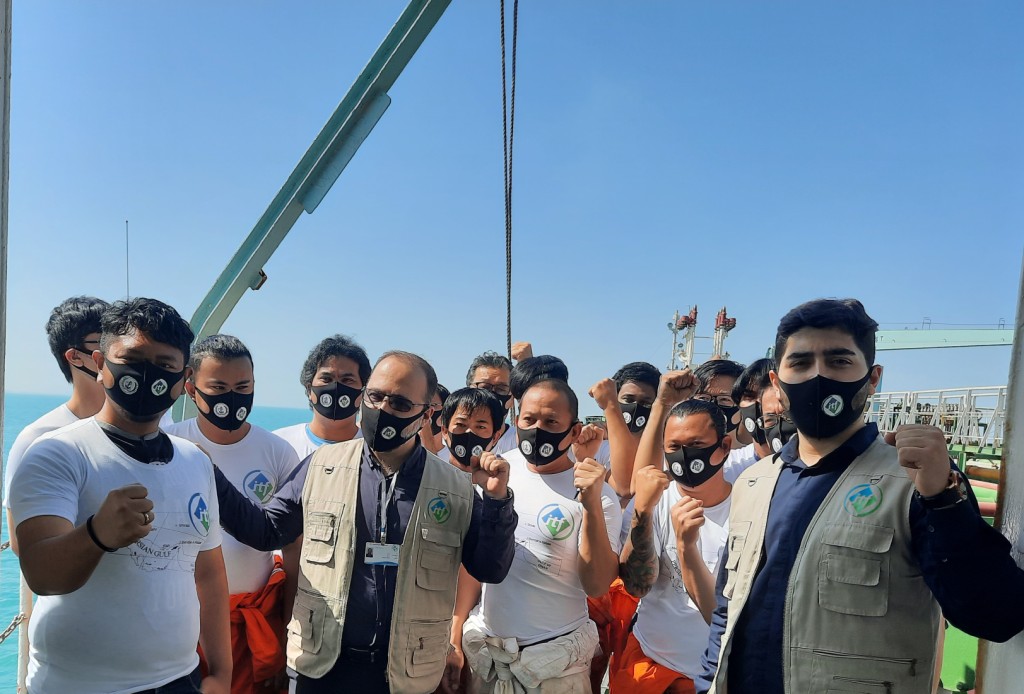 The ITF has helped broker the release of seafarers caught up in diplomatic events in the region before, including in 2019 when seafarers aboard the Iranian-flagged Happiness 1 were detained by Saudi Arabian authorities.
In the case of the Hankuk Chemi, ITF Arab World and Iran Network Coordinator Mohamed Arrachedi quickly contacted ITF affiliate Iranian Merchant Mariners Syndicate (IMMS) and requested any assistance they could provide to the seafarers.
After intense efforts, IMMS was granted permission by Iran's maritime authorities to visit the ship and check on the crew's welfare. On 8 February 2021 an IMMS representative and an ITF contact in Iran were welcomed by aboard by the crew for a welfare check. They were accompanied by agents from the Iranian Port & Maritime Organization.
IMMS union officials spoke with the crew to hear if there were any issues that required attention. They also checked the ship's provisions, accommodation facilities, and the communications channels available to seafarers to speak with their families. Finding no major concerns, the officials also conducted routine inspections of the ship's medical facilities and wage documentation to ensure that everything was in compliance with international regulations. IMMS reports that they found no immediate problems.
The IMMS and ITF visitors also conveyed messages of solidarity to the crew on behalf of the union and the ITF.
Following the visit a meeting was held at Bahonar Port office between the IMMS team, the Republic of Korea consul and the Iranian Port and Maritime Organisation in order to review the situation and discuss the next steps to free the crew.
Shortly after this meeting, the Foreign Ministry of the Islamic Republic of Iran issued a statement that the crew, with the exemption of the Master, would be allowed to leave the country. IMMS offered to provide Iranian seafarers so that the crew could be relieved and repatriated home as soon as possible.
Soon the crew were heading out of port, and on their way home.
Korean union FKSU and ITF are extremely grateful to IMMS for their show of solidarity to the MT Hankuk Chemi crew. The unions believe that the case of this tanker and its crew shows the strength of the ITF family and our ability to help rescue crew from all corners of the world, thanks to the ongoing work of affiliates such as IMMS.